Preparing for Birth and Beyond
The physical and emotional changes of pregnancy, labour, birth and breastfeeding all play important roles in guiding you on your journey to becoming a mother. A baby brings new feelings, understandings and joys. A baby also brings exhaustion, new stresses, and challenges. You may worry about your baby's health, how you will cope in labour, the ways your life will change, and if you will be a good parent. It's normal to feel overwhelmed at times. Discuss your fears with someone you trust. And don't be afraid to ask for help. All parents need help!
Things you can do to prepare for birth:

If you are working outside the home, determine when you will stop working and how long you'll take for maternity leave.
Be physically active. Childbirth calls for energy and stamina.
Learn about what happens in labour, how to cope with contractions, medical interventions, postpartum recovery, newborn care and the basics of breastfeeding. Find out about what you can do to increase your chances of having a healthy and positive birth experience.
Attend prenatal classes. You and your partner will gain confidence as you practice labour and parenting skills and connect with other parents-to-be. Register early so you don't miss out!
Seek out positive birth and breastfeeding stories. They will reassure and empower you.
Believe in your body. It was designed to grow a baby and welcome it into the world. Your health care team will guide and support you as needed.
Talk with your health care provider about their labour and birth practices.
Think about what matters to you, what your options are, and who you want to be with you. Write down these birth preferences and share them with your partner and caregiver.
If you had a caesarean birth before and have a choice about how you will give birth to this baby, learn about vaginal birth after caesarean.
Vaginal Birth After Caesarean and Planned Repeat Caesarean Birth
(BC Women's Hospital and Health Centre)
Plan for your place of birth:

Pack a hospital bag so you are ready for anything, at any time!
If planning a home or clinic birth, discuss arrangements and the things you will need with your midwife.
If planning a hospital birth, contact the Antenatal Clinic at Peterborough Regional Health Centre around 30 weeks to set up an appointment about one month before your due date.
Things you can do to prepare for when your baby arrives:

Know when and who will be providing follow-up health care to you and your baby after birth.
Learn where to get breastfeeding support if you need it.
Start collecting baby supplies. Set up a sleeping area for baby.
Keep connecting with your baby by talking, singing, and reading stories. Notice when your baby moves. Respond by stroking your abdomen. Start thinking about names!
Learn about infant behavior and how babies grow and develop so you'll know what to expect.
Talk with others parents about the early weeks; things they wish they had known, tips they found helpful.
Let visitors know your visiting guidelines before your baby is born.
Stock up on food staples, on-the-go snacks and household items! Make some meals for the freezer.
Line up a list of helpers. Think about people who can give you practical support (hold the baby while you shower, clean your kitchen while you nap) and emotional support.
Discuss with your partner how you will divide household and baby care tasks. Focus on ways you can support each other.
Create a budget. How will you spend and save money? If needed, get advice.
Explore how you'll make couple time a priority and build in regular time for each other.
Prepare other children for a new baby. Read stories or watch videos together. Time new routines well before or after baby arrives. If you will be separated when giving birth, have your child practice staying with others. Plan ways you can include, reassure and have some special time with your older child when the new baby arrives.
Become familiar with Ontario's 5-in-1 bundle. Visit ontario.ca/newborn to find out how to register your baby's birth, request a birth certificate, apply for a social insurance number, sign up for child benefits and access on Education Savings Referral service.
Learn about local services and community programs that provide drop-ins, breastfeeding support, dad's groups etc.
Breastfeeding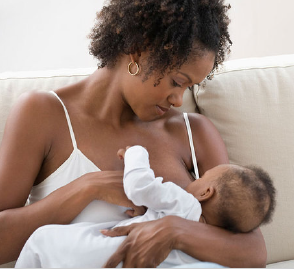 Many mothers make the decision about how they will feed their baby early in pregnancy. Today, most mothers in Ontario decide to breastfeed their babies. Breast milk is the ideal food for your newborn. It is custom-made by you and changes to meet your baby's growing needs. Any amount of breast milk is good!
Breast milk is so important that it is the only food or drink your baby needs for the first six months of life. Starting at six months babies need a variety of foods in addition to breast milk. Health Canada recommends that you continue to breastfeed your baby for up to two years and beyond.
A vitamin D supplement is recommended for all breastfed babies from birth until the baby's diet includes enough vitamin D from other foods or until they are 1 year old.
Importance of Breastfeeding for You and Your Baby
YOU

controls bleeding after birth
is convenient, safe, and always the right temperature
helps you return to a healthy body weight after birth
delays the return of your period providing a period of natural infertility (under specific circumstances)
supports good mental health
saves you money (formula costs from $900 – $3,360 in the 1st year)
protects against cancer of the breast and ovary and type 2 diabetes
YOUR BABY
provides antibodies and makes the immune system stronger
decreases the risk of ear, chest, and stomach infections
promotes healthy brain development
decreases the risk of Sudden Infant Death Syndrome (SIDS)
promotes proper jaw and tooth development
decreases the risk of digestive diseases such as Crohn's disease and colitis
protects against overweight and obesity
Because the health of mothers and babies who breastfeed differs from those who formula feed, it is helpful to discuss with your health care provider about how you plan to feed your baby. You'll want to address concerns and explore the benefits and risks as they relate to your personal situation.
If your baby is to receive formula it is important that you give informed consent. This is because there are risks to giving formula which range from reducing your milk supply which can impact your breastfeeding plans to an increased risk of infections and illness. If you are unable to breastfeed or choose not to, you will be supported and given the information you need to safely feed your baby.
Did you know that you have the right to breastfeed anywhere and anytime?
This right is protected by the Canadian Charter of Rights and Freedom.
Tips for Breastfeeding Success
Everyone needs a little help when learning to breastfeed because breastfeeding is a learned process – neither you nor your baby is born knowing how to do it! And while breastfeeding goes smoothly for many new mothers, others experience a few challenges along the way.
To improve your chances for success:

Learn as much as you can about breastfeeding before your baby arrives. Prenatal classes are a great way to learn. You'll discover how babies signal they are ready to nurse, the many ways to position your baby at the breast, signs your baby is feeding well, and lots more! Check out the community directory at the back of this book for registration information.
Identify ahead of time if you may need extra support. Getting off to a good start can be more difficult for women who – are having their first baby, had breast surgery, have diabetes, low thyroid or polycystic ovary disease, are overweight, are carrying more than one baby, had previous breastfeeding challenges, had a caesarean birth, lack support, are younger than 25, needed reproductive technologies to become pregnant, or have had a previous preterm birth. Speak with a public health nurse or lactation consultant before the arrival of your baby to discuss any specific concerns you may have and how to prepare.
Hold your baby skin-to-skin right after birth and in the early days. This helps your baby adjust and learn to breastfeed.
Talk with your partner and/or significant others about how important breastfeeding is to you and your baby. Encourage them to learn more about breastfeeding. After your baby is born, they can support breastfeeding by taking care of you so you can take care of your baby.
Discover the resources available in our community now so you know where to get the support you need to feel confident breastfeeding your baby.
Breastfeeding Matters (Best Start) booklet.
Or call Peterborough Public Health at 705-743-1000 to receive a free copy.
Peel Breastfeeding Videos (Region of Peel)
Partners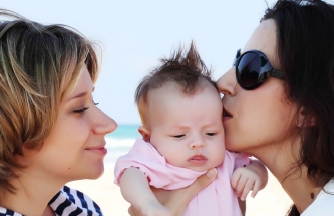 Your partner is unique and irreplaceable. They support you through the ups and downs of your pregnancy journey. And after baby arrives their care and love contribute as much to your child's happiness and emotional security as your love does.
Your partner won't experience the same physical and emotional changes as you, so their journey to becoming a parent will be different. For many, the reality of having a new baby doesn't hit home until birth.
Most partners want to be included in pregnancy, to be helpful, to connect with their baby, and to begin to feel ready for when your little one arrives.
Invite your partner to:
Attend prenatal and ultrasound visits to get to know your health care providers, learn what is happening and have a chance to ask questions.
Watch, listen and read to learn about pregnancy, childbirth, and parenting.
Stay healthy to support you and be the best they can be. They can eat well, quit smoking, not drink alcohol, be physically active, and take care of their own mental health by getting rest and lowering stress. If your partner struggles with alcohol or drugs, now is a good time to reach out for help.
Go with you to prenatal classes to learn what to expect and ways to help you. You'll both feel empowered with the knowledge you'll gain.
Feel your baby moving.
Talk, read and sing to your baby.
Help you plan for baby by getting the supplies you will both need, installing the car seat and deciding where your baby will sleep.
Get some experience holding, playing with and comforting a baby, if possible.
Enjoy time alone with you. Continue to have sex if you are both interested. Talk to each other about what is working and what isn't. As long as your health care provider says it's okay, sex won't hurt the baby.
Prepare for your place of birth. With a hospital birth your partner will need to know the hospital's policies, e.g. where to park, enter, obtain food. With a home birth your partner can help gather the supplies your midwife will tell you that you will need.
Work out the logistics of taking time off work, announcing your baby's birth, managing visitors, and deciding how best to respond to well-wishers when their advice isn't helpful.
Support your decision to breastfeed and help you meet your breastfeeding goals.
Communicate, communicate, and communicate! Take the time to talk about what you both want for your baby. Share your concerns, values, beliefs and joys. The greatest rewards are when you really tune in to and show you appreciate each other. This creates the foundation for you both to grow and bond as a new family.
Dads-to-be
If your partner is becoming a father he may find these resources helpful:
Dad's Adventure
Dad Central Canada
Essential Baby Gear
The selection of baby care products available can be overwhelming. Setting limits can lessen the financial impact that a new baby brings. Before you go shopping, determine what is a need-to-have vs. a nice-to-have, consider your family circumstances, and create a budget!
A crib and a car seat will top your list of must-haves. You will also need baby clothing, diapers and personal care products including a digital thermometer. Items that aren't essential but that many parents find convenient are a stroller, a designated place for changing and storing diapers and a sling or infant carrier. Always be picky about safety when choosing new or used items.
Is Your Child Safe? (Health Canada)
Cribs, Cradles and Bassinets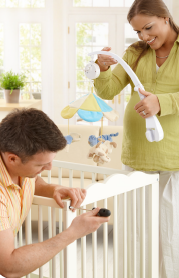 Creating a sleep environment for your baby starts at birth and helps everyone sleep more soundly. The safest place for baby to sleep is in a crib, cradle or bassinet that meets current Canadian safety regulations.
A crib can be used until there is the possibility the child could climb out or is taller than 35 inches (90 cm). You will eventually need one.
A cradle is safe until a baby can push up on hands and knees or has reached the crib's recommended weight limit.
A bassinet can be used until the baby can roll over or has reached the bassinet's weight limit.
Newborns can go directly into a crib. They aren't too small! A bassinet or cradle is a good option for a short time if your room is too small for a crib or you want to keep baby close during daytime naps.
Baby swings, bouncers, strollers and car seats are not recommended for unsupervised sleep because baby's head can tilt forward and make it hard to breathe.
Buying or borrowing second-hand products:
Use caution and put safety ahead of saving money! If you answer "yes" to the following your crib meets current safety standards and is safe.
The crib was made after September 1986.
The crib is less than 10 years old. It has instructions and warning/expiration labels.
t is free of broken or missing parts.
The bars are less than 6 cm (2 3/8 inches) apart.
The corner posts are less than 3 mm high (0.12 inches).
It doesn't have decorative cut-outs.
The crib mattress is firm and is less than 15 cm (6 inches) thick. The cradle or bassinet mattress is less than 3.8 cm (1 ½ inches) thick.
The crib mattress fits snugly.
The crib doesn't have a drop side.
Where should my crib go?
The crib, cradle or bassinet should be placed close to your bed for the first 6 months. This makes breastfeeding easier and may protect against Sudden Infant Death Syndrome. It is important to also ensure the room and your home is smoke-free.
What goes in the crib?
It's easy! All you need is the mattress and a fitted sheet. Keep soft bedding such as bumper pads, pillows, loose blankets, stuffed animals and sleep positioners out of your baby's sleep environment as they can increase the risk of suffocation.
Safe Sleep (Government of Canada)
Car Seats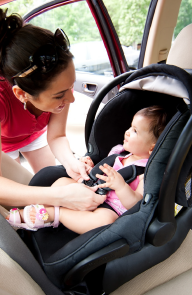 Which car seat is the right car seat?
The right car seat is one that fits your vehicle, fits your baby and is easy to use so you install it correctly every time.
Choose between an infant rear-facing car seat or a convertible infant/child car seat.
Infant car seats are convenient. They have a handle and the seat snaps in and out of the car base or stroller so baby doesn't have to be unstrapped.
Convertible infant/child car seats are fixed but they allow baby to be rear facing longer and they can be turned to face forward as baby grows.
Look for the Canadian Motor Vehicle Safety Standard (CMVSS) label on the seat. It tells you the seat was made in Canada, meets regulations and is legal for use in Canada.
Tips for Installing Correctly
Four out of five car seats are used incorrectly. Take the time, at least four weeks before your due date, to read your vehicle manual and the car seat instructions. Practice installing the car seat and adjusting the straps.
The car seat will be rear-facing until baby:

Is at least one year of age, can walk without help and is 10 kg (22 lbs).
Reaches the car seat's maximum weight and height limits.
When your baby outgrows the limits of an infant rear-facing car seat, they can be moved to a convertible infant/child car seat and stay rear-facing until ready to face forward. Consider keeping baby rear-facing for two years because if offers better protection.
The car seat should go in the back seat. If baby must ride in a front seat, turn off the air bag.
The base should be at a 45 degree angle. Adjust the foot or use a tightly rolled towel/foam bar under the base.
It shouldn't move more than 2.5 cm (1 inch) side-to-side in any direction.
The harness straps should:
Lay flat and snug.
Be at or slightly below baby's shoulder.
Be tight. If you can grasp any of the webbing at the baby's collarbone, the strap is too loose.
The harness chest clip should be at armpit level.
Car Seat Checks
Get answers to your questions or get your installation checked by a certified car seat educator. Contact peterboroughcarseat@gmail.com.
Second-hand Car Seats
Many are still safe. Just make sure the car seat has never been in a crash, has never been recalled and it hasn't expired (check on the car seat or in the owner's manual).
Choose the Right Car Seat (Ontario Ministry of Transportation)
Installing a rear-facing child car seat (Ontario Ministry of Transportation)