Travelling While Pregnant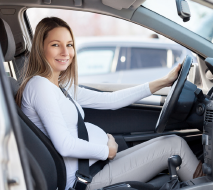 Travelling is safe as long as you and your baby are healthy. You will want to discuss your travel and activity plans with your health care provider well beforehand, and take a few extra precautions.
Car Travel
Wear the diagonal shoulder strap across your chest between your breasts. The lap belt is worn low and flat on top of your thighs.
With air bags, ensure there is at least 25 cm (9.75 inches) between you and the steering wheel or the dashboard.
Build in extra rest stops during long trips.
Long-Distance Travel
The safest time in your pregnancy to travel is between 18 and 24 weeks.
Know the risks with the destination you will be travelling to. If not low risk, consider delaying the trip or choosing a different destination.
Avoid malaria, yellow fever, and Zika virus zones.
Avoid high-altitude destinations above 3,658 metres (12,000 feet) where oxygen to your baby may be reduced.
Check airline/cruise rules before booking your trip. Most restrict travel after 36 weeks. Many cruise lines place restrictions in the second trimester. Airlines take into consideration the length of the flight. Both may require a health care provider's note with your pregnancy details and due date.
Find out about the medical care available in the country you are visiting in case urgent care is needed.
Ensure your travel health insurance covers pregnancy complications, birth and newborn care and that you have read the fine print!
Call Peterborough Public Health for advice on travel vaccines. Discuss recommendations with your health care provider.
Be prepared in advance as some vaccines are not given during pregnancy.
Check if you are immune to infectious diseases, for example varicella, measles, and pertussis.
Update your immunizations as needed.
Pack your prenatal vitamins, any medications, a copy of your medical records, and snacks in your purse or carry-on luggage.
While on your Trip
Reduce the risk of blood clots in your legs by moving your legs often, staying well hydrated and wearing support stockings.
Drink only safe water. If unsure, opt for sealed bottled water.
Prevent traveller's diarrhea which can be more severe in pregnancy by steering clear of unsafe food and washing your hands often.
Avoid taking bismuth subsalicylate (Pepto-Bismol).
Protect yourself from insect bites by using repellents and bed nets and wearing protective clothing.
Keep safe in the sun by covering up. Wear sunscreen, a hat and sun glasses.
Seek medical help immediately if you experience: a fever, persistent vomiting or diarrhea, abdominal pain or cramps, a lot of leg swelling or pain, headaches or visual problems, vaginal bleeding, contractions, or if your water breaks.
If you develop symptoms upon returning to Canada, let your health care provider know about your recent travel.
Resources
Travelling While Pregnant (Public Health Agency of Canada)