Prevent Infections and Protect Your Baby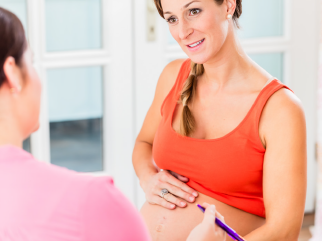 Most infections can be prevented during pregnancy by regular hand washing, taking a few extra precautions with diet and lifestyle, and getting the recommended vaccines and tests.
Click below to find information about infections known to cause problems in pregnancy and ways to keep healthy.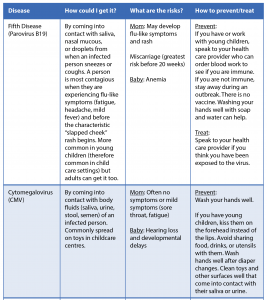 Vaccines during Pregnancy
During pregnancy, all women should be offered the yearly flu vaccine and the vaccine for whooping cough (Tdap) between 27 and 32 weeks to protect themselves as well as their baby. For more information, please visit: Vaccines you need during pregnancy. Ensure that those around after the baby is born are vaccinated as well.
COVID-19 Information
Worrying about COVID-19 during pregnancy can be stressful. For reputable information about COVID-19 and Pregnancy, please visit: Advice for Mothers during COVID-19.
As pregnant women are at an increased risk of severe outcomes from COVID-19, it is recommended that they get a complete series of the COVID-19 vaccine, if they have not already done so, as well as a booster dose when eligible. This will give themselves as well as their baby the best protection. Talk to your health care provider for more information.
If you are planning to give birth at the Peterborough Regional Health Centre (PRHC), they also have information for you concerning COVID-19 and pregnancy.
If you have specific questions or concerns related to COVID-19, as always, please talk to your health care provider. You may also find helpful the SickKids COVID-19 Vaccine Consult Service – a by-appointment phone service that provides a safe, judgment-free space to have an open conversation about the COVID-19 vaccine.