Oral Health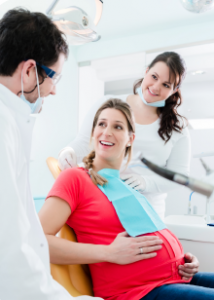 Taking care of your teeth and gums is an important part of having a healthy pregnancy. Hormone changes in your body can make your gums more sensitive, bleed more easily, and become swollen (gingivitis). If gingivitis is not treated, it may lead to more serious gum and bone disease (periodontitis). This disease can cause you to lose teeth. Periodontitis has also been linked to preterm labour and high blood pressure in pregnancy (pre-eclampsia).
How to Keep Your Mouth Healthy
Brush your teeth at least twice a day using fluoride toothpaste and a soft toothbrush. Clean carefully at the gum line where gum disease starts.
Floss daily to clean between your teeth and gums.
If vomiting occurs, rinse your mouth out with water then wait 30 minutes before brushing your teeth. Stomach acid combined with brushing can damage the enamel of your teeth and cause decay.
Eat well following Canada's Food Guide. Calcium and vitamins help maintain healthy teeth. See the list of good sources of calcium on the Healthy Eating – Pregnancy page
Let your dental office know you are pregnant. If an x-ray is needed in an emergency situation, ensure your abdomen is well shielded with a lead apron to protect your baby from radiation.
Resources
Oral health and pregnancy – Canada.ca
Community Dental Health Clinic