Emotional Changes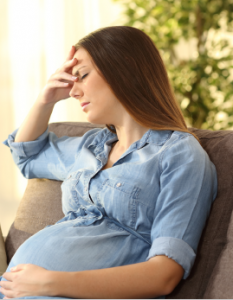 Every woman experiences pregnancy differently. All of the hormonal changes and adjustments can increase your stress level and can have an affect on how you think, act, and feel.
Take Care of Yourself
Listen to your body and take time to rest, relax, and sleep as much as you can.
Be kind and gentle with yourself – set realistic expectations!
Plan to do something you enjoy every day.
Stay active and eat well.
Try to avoid stressful situations.
Talk to your baby and enjoy your growing bond.
Create a good support network.
Share your thoughts and feelings with your partner and/or someone you trust.
Talk to your health care provider if you need extra support to help you cope.
Mood Changes and Anxiety in Pregnancy
Mental health concerns can happen to anyone, even during pregnancy. Depression and/or anxiety are common, affecting up to 1 in 5 women. They need to be taken seriously because they can affect your health and the health of your baby. The good news is depression and anxiety can be treated and managed.
There is no one single cause for mood and anxiety disorders. They may be triggered by pregnancy hormones that affect chemicals in the brain, a pregnancy complication, a personal or family history, stressful life events, or a lack of support.
Symptoms may be mild, moderate, or severe. They may include:
Trouble focusing or making decisions.
Losing interest or pleasure in activities you once enjoyed.
Feeling anxious or worried all or most of the time.
If you experience any of these symptoms, speak to your health care provider. Treatment and support are available!
See also: Perinatal Mood Disorders for more information and available supports.
If you ever have thoughts of harming yourself, call 911 or go the hospital Emergency Department right away.
Resources
Depression in Pregnant Women: How it Affects You and Your Child