Novel Coronavirus (COVID-19) – Health Professionals
This page will be updated as new information is available. Please check back often.
LAST UPDATED: 8:57 AM February 21, 2020
Provincial Documents
Case Definition
Guidance for Primary Care Providers in a Community Setting
Guidance for Acute Care
Guidance for Home and Community Care Providers
Home and Community Care Provider Positive Screen Algorithm
Guidance for Long-Term Care
Guidance for Paramedic Services
COVID- 19 Training Bulletin for Paramedics Version 1.2
Guidance for Pharmacies
Guidance for Community Laboratories
Guidance for Independent Health Facilities
Call Taking and Dispatching Protocols for Novel Coronavirus
Protocol for Lab Testing:
If a client presents to your facility and meets the case definition, testing may be required. Please note, Public Health Laboratory approval is no longer required for testing for COVID-19. Please refer to Public Health Ontario for additional information
In Peterborough, the Peterborough Regional Health Centre (PRHC) is equipped and educated on how to obtain specimens. If an individual should be tested, please contact Peterborough Public Health at 705-743-1000 x401 Monday to Friday between the hours of 8:30am-4:30pm.  After hours call 705-743-1000 to be connected with the on-call staff.  Peterborough Public Health staff will facilitate testing, if required, with the PRHC Emergency Department.
Environmental Cleaning and Infection Prevention and Control:
Cleaning for Novel Coronavirus is the same for other contact/droplet viruses, like influenza.  Additional precautions being used do include airborne precautions, however this is out of an abundance of caution.
The Provincial Infectious Diseases Advisory Committee on Infection Prevention and Control (PIDAC) has provided best practices for infection prevention and control in clinical office settings (pg. 29-31), as well as best practices for environmental cleaning . (pg. 107)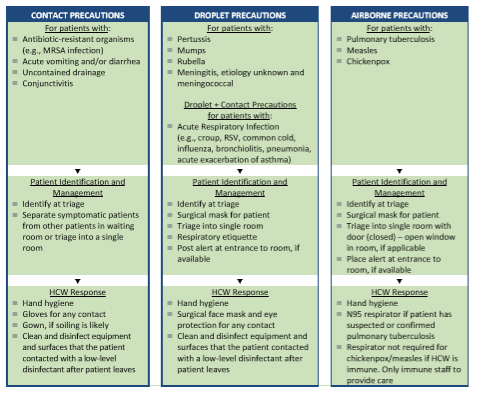 For more information on environmental cleaning in health care settings please refer to the following documents:
Environmental Cleaning toolkit
Environmental Cleaning – Public Health Ontario webpage
Donning and Doffing Personal Protective Equipment:
Putting on Personal Protective Equipment
Removing Personal Protective Equipment
Q&As – Personal Protective Equipment Supply
Screening at Toronto Pearson International Airport:
Travelers returning from the area of concern are screened for illness.  Those that state they are feeling unwell and report symptoms that meet the case definition will undergo further assessment.
Those that report feeling well are provided a one page document that advises them to contact Telehealth should they develop symptoms.
64-05-19-2611-Coronavirus-Handout-Arrival-EN-FR-CH-18
64-05-19-2611-Coronavirus-Handout-Arrival-Hubei-EN-FR-CH-14
Screening by Telehealth
Telehealth will screen these calls in accordance with the Provincial case definition, and if there are individuals who meet the case definition they will refer them to the ER. These individuals are provided guidance on how to reduce the risk of transmission while travelling to, and arrival at the hospital. Telehealth will provide the ER with information prior to the individual's arrival so that the appropriate precautions are used.
Asymptomatic individuals who call Telehealth are provided education as to symptoms and what to do should they develop respiratory illness.
Other Resources