Peterborough Region COVID-19 Tracker
Status of COVID-19 in Peterborough Region
Updated by 4:00 p.m. each Wednesday.

---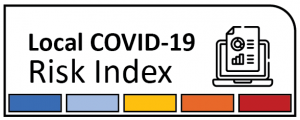 This Index shows the risk level of COVID-19 transmission in the Peterborough Public Health Region.
It brings together all available indicators on COVID-19 transmission into one easy-to-understand five-point scale. Each indicator is based on local scientific data. You can see the indicators below that Peterborough Public Health monitors.
Video explainer – Dr. Piggott explains how to use the COVID-19 Risk Index to stay safe.
The Risk Guidance also suggests ways you can protect yourself for each risk level. If you have a greater risk of serious illness from COVID-19, the Index offers additional guidance for your protection. The Risk Index level and guidance recommendations can also be accessed by calling 705-743-1000 to hear a pre-recorded message.


Feedback
We continue testing out the Index, and welcome your thoughts on any improvements you'd recommend. Please click the survey link below to share your feedback. Thank you!

Additional Resources
For a copy of the Technical Notes supporting the COVID-19 Risk Index, please email your request to info@peterboroughpublichealth.ca.