Peterborough Public Health Issues 2nd Heat Warning of the Season
Written by Comms Team, August 5, 2022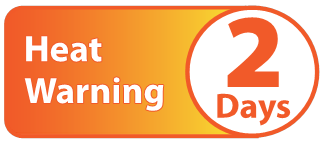 Today Peterborough Public Health is issuing the 2nd Heat Warning of the season. A heat event is expected to affect the local area from Saturday, August 6 to Monday, August 8. Daytime temperatures are expected to be in the high twenties or low thirties with minimum temperatures in the low twenties, also humidex values are expected to reach the high thirties to low forties, bringing little relief from the heat. Cooler temperatures are expected on Monday.
One Roof Community Centre will extend its hours of service to 8:30 a.m. to noon and from 1:00 p.m. – 9:30 p.m. One Roof will close between noon and 1:00 p.m. for meal preparation and cleaning; a lunch meal will be served between 1:00 p.m. and 2:00 p.m. One Roof Community Centre provides services on behalf of the City of Peterborough and is located at 99 Brock Street.  For full description of meals and other services that One Roof provides, please visit its website at www.oneroofptbo.ca.
Peterborough Public Health continues beach water testing throughout the City and County of Peterborough and at Curve Lake and Hiawatha First Nations. Results are regularly updated at www.peterboroughpublichealth.ca.
Refillable water bottles and bottled water are being distributed by One Roof through its community meal program.
The City of Peterborough offers water refill stations at:
Peterborough Marina, 92 George St. N.
Eastgate Memorial Park, 2150 Ashburnham Dr.
Beavermead Park, 2011 Ashburnham Dr.
Peterborough Public Library, 345 Aylmer St. N.
In addition to the water refill stations, the tap water in public washrooms at municipal parks, including King Edward Park and Millennium Park, is from the City's water supply.
People suffer heat-related illnesses when their body temperature quickly rises and they are unable to cool themselves. The risk of heat-related illness increases with the amount of time spent in the heat, the temperature and an individual's sensitivity to heat. If you feel faint, find it hard to breathe, or feel confused and disoriented because of the heat, call 911 or go to the Emergency Department.
How to Protect Yourself During Hot Weather:
Drink lots of water even if you don't feel very thirsty. Avoid alcoholic beverages, coffee and cola.
Avoid going out in the direct sun or heat when possible. If you go outside, rest frequently in green spaces with lots of shade and plan to go out early in the morning or in the evening when it is cooler.
Use an air conditioner if possible, and if you don't have air conditioning, keep shades or drapes drawn and blinds closed on the sunny side of your home, but keep windows slightly open.
Wear loose fitting, light clothing and a wide brimmed hat.
Keep lights off or turned down low.
Take a cool bath or shower periodically or cool down with cold, wet towels.
Avoid heavy meals and using your oven.
Avoid intense or moderately intense physical activity.
If you are taking medication or have a health condition, ask your doctor or pharmacist if it increases your health risk in the heat and follow their recommendations.
Heat illnesses include heat stroke, heat exhaustion, heat fainting, heat edema (swelling of hands, feet, and ankles), heat rash, and heat cramps. Watch for symptoms of heat illness, which may include:
heavy sweating;
muscle cramps and/or headache;
weakness, dizziness, or fainting;
nausea or vomiting;
paleness, tiredness;
rapid breathing and heartbeat;
extreme thirst; or
decreased urination with unusually dark yellow urine.
Extreme heat is often accompanied by poor air quality.  Peterborough Public Health encourages you to monitor the Air Quality Health Index found as a link on the Ministry of the Environment, Conservation & Park's website www.airqualityontario.com and plan outdoor activities accordingly.
-30-
For further information, please contact:
Sarah Gill
A/ Communications Manager
705-743-1000, ext. 352