Peterborough Public Health Extends Drug Poisoning Alert 
Written by Comms Team, November 2, 2023
Residents Urged to Carry Multiple Naloxone Kits 
Peterborough Public Health (PPH) is extending a community alert issued on November 1, 2023, following an increase in suspected drug poisonings.  
In the last 48 hours, paramedics and emergency room staff have responded to 12 suspected drug poisonings in Peterborough City and County. These reports have prompted PPH to issue a public warning to prevent further harm in the community. 
Currently, the substance that is causing the increase in poisonings is not known. PPH is reminding the public that street drugs may be cut or mixed with toxic substances. Beware that using even a small amount of drug can be fatal.  
A drug poisoning may look different from one person to the next depending on the drugs involved. A drug poisoning is a medical emergency. ALWAYS call 9-1-1.  
 If you or a loved one uses drugs,  
Carry multiple naloxone kits and keep them visible. Free naloxone kits are available locally. 

www.ontario.ca/page/where-get-free-naloxone-kit\

 

NEVER use alone. Ask someone to check on you or call the National Overdose Response Service at 

 

1-888-688-6677. Visit

the Consumption Treatment Services Site at 220 Simcoe Street in Peterborough. Open daily between 9:00 a.m.-8:00 p.m.

 

Avoid mixing drugs.

 

Start low and go slow when using drugs, especially when buying from different or new suppliers.  

 

NEVER share supplies.

 

Call 9-1-1 immediately if someone begins to show signs of an overdose.

 
 Know the Signs of an Overdose/Drug Poisoning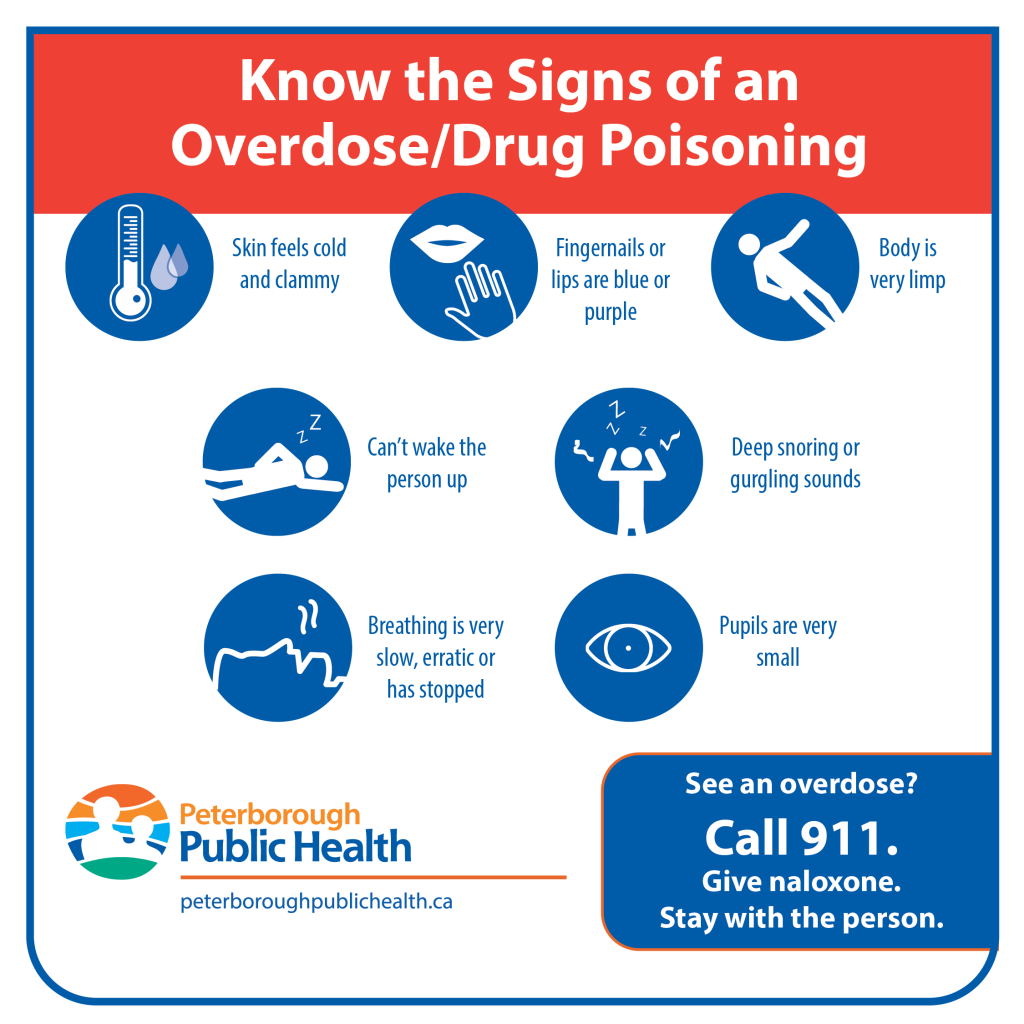 Residents can anonymously report drug poisonings and other bad drug reactions using the 'Drug Reporting Tool'. Any information shared through the tool supports PPH and community partners in responding to and preventing drug poisonings in the Peterborough area.  
For more information, please visit www.peterboroughpublichealth.ca and search for "Opioids".  
-30- 
For further information, please contact: 
Media Relations
Media@peterboroughpublichealth.ca