Medical Officer of Health Receives Award of Excellence from Ontario College of Family Physicians
Written by admin, December 2, 2013
December 2, 2013 – Dr. Rosana Salvaterra Recognized for Outstanding Service on the OCFP Board of Directors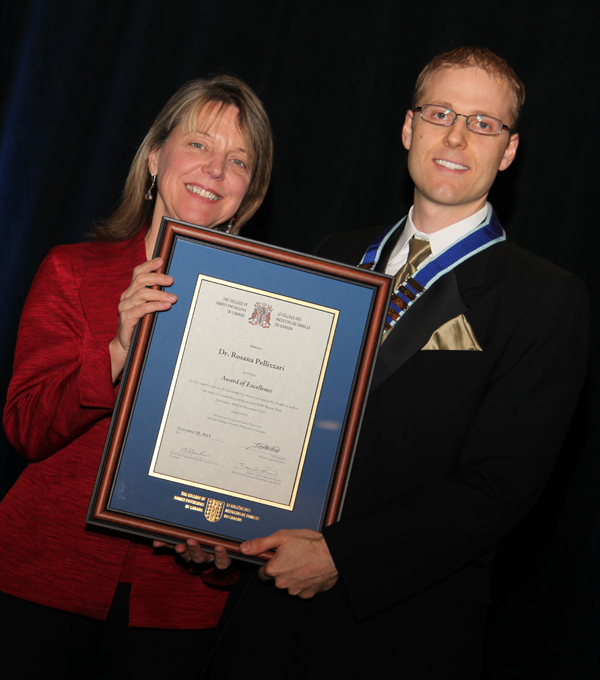 The Peterborough Public Health is proud to announce that the Ontario College of Family Physicians (OCFP) bestowed the Award of Excellence to Dr. Rosana Salvaterra, Medical Officer of Health at a special ceremony last night in Toronto.
"We are extremely proud of Dr. Salvaterra's accomplishments, and are thrilled to see this recognition from her medical peers," said David Watton, Chair of the Peterborough County-City Board of Health.  "Her talents have not only made a difference to public health locally but at the provincial level as well through her leadership with the Ontario College of Family Physicians."
Dr. Salvaterra received this award because of her outstanding service to the Ontario College of Family Physicians as a member of the OCFP Board of Directors. Every year approximately 17 Awards of Excellence are handed out at the Annual Scientific Assembly of the OCFP.  The winners are nominated by their peers in recognition for contributions to their patients, their communities and to family medicine in general.
"Dr. Rosana Salvaterra has been a valuable member of the OCFP Board of Directors for 3 years," says Dr. Jonathan Kerr, President. "Our Board of Directors represents 12,000 family physicians in Ontario – physicians working in a variety of different settings and with different challenges and areas of focus. To best serve our membership, the OCFP Board needs a diversity of experiences and perspectives – Dr. Salvaterra brought with her a population health and public health lens, which added an important dimension to our discussions."
In addition to her role on the OCFP Board, she was a valuable member of the Poverty Committee working on issues of equity and social determinants of health since 2010, and also served on the Environmental Health Committee and Planning and Policy Development Committee.
Dr Salvaterra continues to serve as practicing physician in Public Health's Sexual Health Clinic, as well as leading the organization as its Medical Officer of Health.
The OCFP is the voice of family medicine in Ontario representing more than 12,000 family physicians providing patient care in remote, rural, suburban and urban communities throughout Ontario. Through education, leadership and advocacy, the OCFP strives for high standards of medical care and education in family medicine. It is the provincial Chapter of the College of Family Physicians of Canada.
-30-
For further information, please contact:
Brittany Cadence
Communications Supervisor
(705) 743-1000, ext. 391