Local Vaccination Efforts Helped Wipe Out Polio in the Western World
Written by Communications, February 5, 2019
Former Medical Officer of Health to Present at Back to the Future Event This Saturday
Dr. Garry Humphreys, former local Medical Officer of Health, will share the fascinating history of the local contribution to global polio prevention in the 1950s during the Back to the Future event on Saturday, February 9, 2019.
"Polio was a serious threat in North America throughout the 20th century, and still remains active in other parts of the world," explained Dr. Rosana Salvaterra, current Medical Officer of Health for Peterborough Public Health.  "Thanks to mass immunization efforts, we've been able to essentially eliminate polio on this continent, and we continue to give the vaccination to children to prevent its resurgence."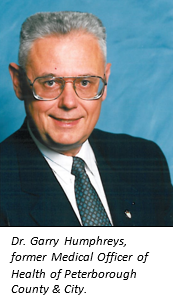 Dr. Humphreys was the local Medical Officer of Health from 1984-1986 and 1991-2008.  His presentation will explain how doctors in the local area were among the first to use the polio vaccine in the 1950s.  The success of the vaccine led to its eradication in the western world.
Polio is a crippling and potentially fatal infectious disease.  It spreads from person to person invading the brain and spinal cord and causing paralysis.  There is no cure, so the strategy to eradicate polio is based on preventing infection by immunizing every child to stop transmission and ultimately make the world polio free.  In 1988, the World Health Assembly adopted a resolution for the worldwide eradication of polio.  Since 1979, the International Rotary Club has helped immunize 2.5 billion children against polio in 122 countries.  Today, polio continues to circulate in three countries:  Afghanistan, Pakistan, and Nigeria.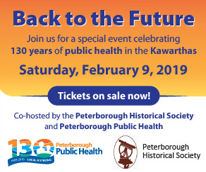 Dr. Humphreys will join several other speakers from across Ontario on Saturday, February 9 to present the fascinating story of local public health for the "Back to the Future" event organized by the Peterborough Historical Society and Peterborough Public Health.  Presentations will cover a unique mix of topics, such as polio and local vaccination programs, diabetes among Indigenous populations, milk pasteurization, public health nursing, drinking water protection and the history of sanitation efforts, and many others. The full conference program is attached and available online here.     
Tickets are $55 each or $35 for students, and include lunch, break refreshments and access to all presentations. To register online, click here or visit www.Eventbrite.ca and search for "Back to the Future".  To register by phone at a reduced rate, please call 705-743-1000, ext. 264.  Registration deadline is Friday, February 8.
-30-
For further information, please contact:
Brittany Cadence
Communications Manager
705-743-1000, ext. 391