Prenatal Care
You and Your Health Care Team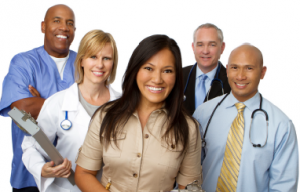 Prenatal care is regular medical check-ups with a health care provider to ensure you and your baby get the best possible care and follow-up during your pregnancy.
You have a choice in who provides your prenatal care. Who you see may depend on where you live, the health of you and your baby, your preferences and where you want to give birth. It is important to have a health care provider you trust and feel comfortable with. The Ontario Health Insurance Plan (OHIP) covers all routine prenatal care.
Your prenatal care may begin with your family doctor or a nurse practitioner. As most do not deliver babies, your care will be transferred at some point in your pregnancy to one of the following. With midwifery care and PIPC you can refer yourself in early pregnancy.
The Partners in Pregnancy Clinic (PIPC): A team of family doctors, nurses, social workers, a dietitian, physician assistant and others. PIPC provides pregnancy care, their doctors deliver babies in the hospital and they care for mothers and babies to six weeks after birth. PIPC refers to obstetricians if needed.
Kawartha Community Midwives: A team of registered health care professionals who provide care to mothers having a low risk pregnancy. If complications arise, midwives refer to an obstetrician. Midwives deliver babies in the hospital, in their clinic or in the home. They care for mothers and babies up to six weeks after birth.
An obstetrician: A doctor who specializes in medical and surgical care of pregnancy. Obstetricians provide care to mothers during pregnancy, they deliver babies in the hospital and they care for mothers to six weeks after birth. Obstetricians are skilled at diagnosing and treating complications. They work with other specialists such as pediatricians.
Other health professionals such as a genetic counsellor, registered dietitian or mental health professional may be involved in your care.
You will see your health care provider for regular check-ups every:
month during the first 30 weeks of pregnancy
two weeks from week 30-36.
week (or more often if needed) from week 36 until you have your baby.
Your first prenatal check-up will usually include:
questions about your medical, mental health, family history and lifestyle.
a physical exam – a pap test is done only if you are due for one.
blood work – to test for anemia (low iron), blood type and rh factor, protection against german measles (rubella), and viruses such as hepatitis B, syphilis, and HIV (optional).
urine test – to check for infection.
information about how to be healthy.
advice on immunizations.
At follow-up prenatal care visits, your health care provider will check:
how you are feeling
your blood pressure
your weight
your urine as needed for bacteria and protein
baby's heartbeat (after 10-12 weeks)
baby's growth by measuring your abdomen (in the second trimester)
baby's position (once baby is big enough).
At your visits you will have the opportunity to talk about your concerns, to ask questions and be linked to helpful community services. Your prenatal visits are a great way to learn as much as you can about having a baby.
Communicating With Your Health Care Provider
Your health care provider shares the same goal for you and your baby to be healthy.
Communication is key to a good relationship and getting the best care possible.
To get the most out of your visits:
write down your questions before your visit.
invite your partner or a support person to come with you. They may remember something you missed or forgot.
at the beginning of your appointment, let your health care provider know that you have a few questions.
be open and honest, even if you feel uncomfortable and embarrassed.
ask if you need something explained, reworded or written down.
share what is important to you.
summarize what you understand from the conversations.
Making Decisions About Your Care
Throughout your pregnancy journey you will be faced with many health decisions that will affect your pregnancy, your birth experience and beyond. Although you may feel unsure about speaking up in the beginning, you will feel more satisfied if you are actively involved in making decisions about your care.
The following steps will help you make an informed decision and one that reflects your needs.
Learn as much as you can. Talk with your health care provider about their practice, your options, and how these relate to your personal health situation and your goals. Do your own research by checking out credible sources based on science.
It can be confusing and overwhelming when you worry if you'll make the right decision. Use the BRAIN acronym to help guide you in getting answers to your questions.
B … What are the benefits? How will this help my baby or me?
R … What are the risks? How will this affect my baby or me?
A … What are my alternatives?
I … What is my intuition or inner voice telling me?
N … No or Not now or Need time – What if I say no, not now or I need time to think a decision through? For most decisions you have time to think them through.
Think about what really matters to you. What are your beliefs, values, preferences and life circumstances? Share these with your health care team.
Consider whether you have the support you need.
Any decision you make needs to feel right for you and your health care provider should respect your choice.