PCCHU Issues Third Heat Alert for Area
Written by admin, August 14, 2015
August 14, 2015- The Peterborough Public Health is issuing another Heat Alert for the City and County of Peterborough, and Curve Lake and Hiawatha First Nations.  The alert is issued for Sunday, August 16, and Monday, August 17 and will remain in effect until further notice.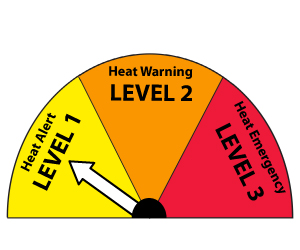 This Heat Alert is being issued as the daytime temperatures are forecast to be at least 30 C for both days while the humidex is expected to reach 36 Sunday, August 16 and 38 on Monday, August 17. Depending on changes to the weather forecast over the next few days, the Heat Alert may be elevated to a Heat Warning or lifted.
It is best to remain cool, and out of the sun especially if you have a chronic illness. If this is not possible then ensure you take the proper precautionary measures to protect yourself from the sun. This includes consistently applying sunscreen to exposed areas every two hours and wearing a hat and sunglasses. Also, remember to drink plenty of fluids, particularly water.
"Drinking plenty of water and replenishing your fluids is key to staying safe in the heat," says Dr. Rosana Salvaterra, Medical Officer of Health. "It is important to remember to drink water before you get thirsty, and not wait until you become dehydrated."
If your home does not have air conditioning then you can visit a public building such as library, community centre or shopping centre. In addition, avoid cooking in an oven to keep the temperature in your home down. Closing your blinds is another effective method of keeping the sun out, and keeping the temperature down.
Extreme heat is often accompanied by poor air quality.  The Public Health would like to encourage residents to monitor the Air Quality Health Index found as a link on the Ministry of the Environment & Climate Change's webpage and plan outdoor activities accordingly www.airqualityontario.com.
Public, air conditioned facilities such as malls, libraries and community centres are available to city and county residents seeking a place to cool off. Residents are advised to phone in advance to determine hours of operation.
-30-
For further information, please contact:
Wanda Tonus
Public Health Inspector
705-743-1000