Situation Report
LAST REVIEWED/UPDATED: 11:30 a.m. ET., March 27, 2020
This report is updated by noon Monday to Friday.
If you would like an update sent directly to your email inbox please send subscription request to: awong@peterboroughpublichealth.ca with "SUBSCRIBE" in the subject line.
Local case counts1:
City and County of Peterborough, Hiawatha and Curve Lake First Nations
Confirmed positive: 13
Confirmed negative: 279
Under investigation: 236
Recovered2: 1
Deceased: 0
Hospitalized cases: 2
Current status of hospitalized cases: 2 – ICU
Unusual cases: 1 – March 27, 2020: Employee at Pinecrest Nursing Home in Bobcaygeon (Haliburton, Kawartha Pine Ridge District Health Unit)
Note: the counts are cumulative (i.e. overall).
Local Institutional Outbreaks1:
St. Joseph's at Fleming: March 24, 2020; 1 confirmed case for a client
Figure 1: Total Emergency Department, Influenza-like Illness, and Respiratory Visits in Peterborough2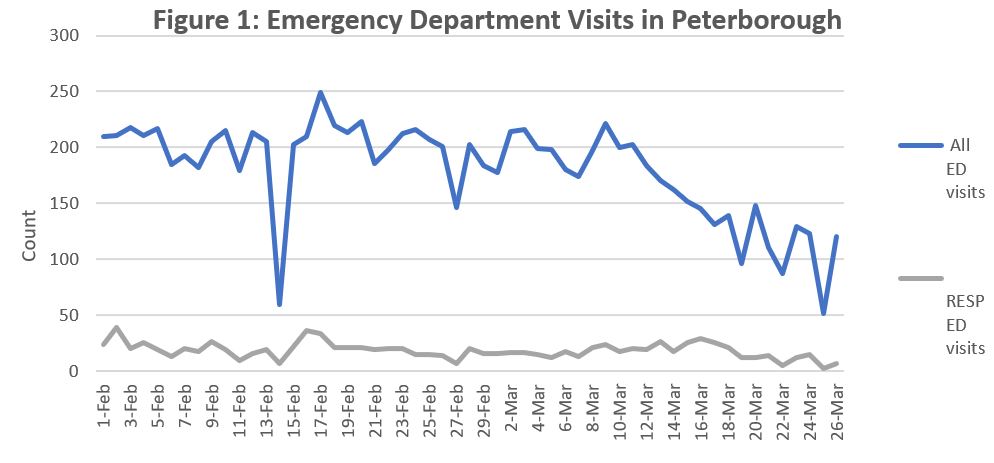 Ontario [Last updated: March 26, 2020 at 5:30 p.m. ET]
Negative: 26,727
Currently under investigation: 10,965
Confirmed positive: 835
Resolved2: 8
Deceased: 15
Figure 2: Number of people in Ontario infected with COVID-19*

National case counts1:
For information re: National counts, we recommend:
COVID-19 Canadian Outbreak Tracker, Esri Canada (Contains map and graphs re: cases)
Resources/Guidelines:
See tab, "What if I am a Health Care Professional", on Novel Coronavirus (COVID-19) – Health Professionals
The Society of Obstetricians and Gynaecologists of Canada issued a committee opinion regarding COVID-19 during pregnancy. Information can be found on their website.
1Update accurate as of date and time listed in heading.
2Patient is no longer infectious based on two consecutive negative tests performed at PHO Laboratory at least 24 hours apart