Car Seat Safety
You can help keep your child safe by:
Choosing the right car seat for your child and vehicle
Installing it correctly, and
Properly harnessing your child into the seat every time
Information about choosing and installing car seats is available in the links at the side of the page.
Peterborough and Area Car Seat Partnership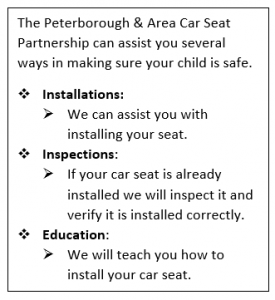 The Peterborough and Area Car Seat Partnership is a group of community agencies supporting child passenger safety in Peterborough City and County.
Support to the community includes:
Individual education and installation
Group Presentations
Car Seat Clinics
Booths/Tables at community Events
Public Awareness and Advocacy
…. and much more!
Peterborough & Area Car Seat Partnership can be contacted at:
peterboroughcarseats@gmail.com

Last modified on Apr 19, 2017