Physical Activity
What is physical activity?
Physical activity happens any time you use your muscles to move your body, resulting in increased heart rate and breathing. There are two main types of physical activity:
Active living is a way of life where physical activity is natural and integrated into daily life. It can be any type of physical activity. Examples include walking or cycling for transportation, household chores, gardening and shovelling snow.
Exercise is a form of physical activity that is planned, repetitive and purposeful to improve or maintain fitness. Examples include brisk walking, jogging, playing sports and working out.
Recommendations
Older Adults are recommended to get at least 150 minutes of moderate- to vigorous-intensity aerobic physical activity per week. That is about 22 minutes every day, or 30 minutes/5 days per week. It is also beneficial to add muscle and bone strengthening activities using major muscle groups, at least 2 days per week.
Benefits of regular physical activity for older adults:
Reduce the risk of :
Chronic disease (e.g. high blood pressure and cardiovascular disease) (or can ease symptoms or slow disease progression)
Premature death
Can also help to:
Maintain mobility and functional independence
Improve or maintain healthy body weight
Improve fitness – includes endurance, muscle strength, flexibility, coordination and balance (prevents falls and helps you recover faster after surgery or a fall)
Maintain bone health
Maintain mental health and feel better
Improve memory and alertness
Research shows that as much as half the functional decline between the ages of 30 and 70 is due not to aging itself but to an inactive way of life.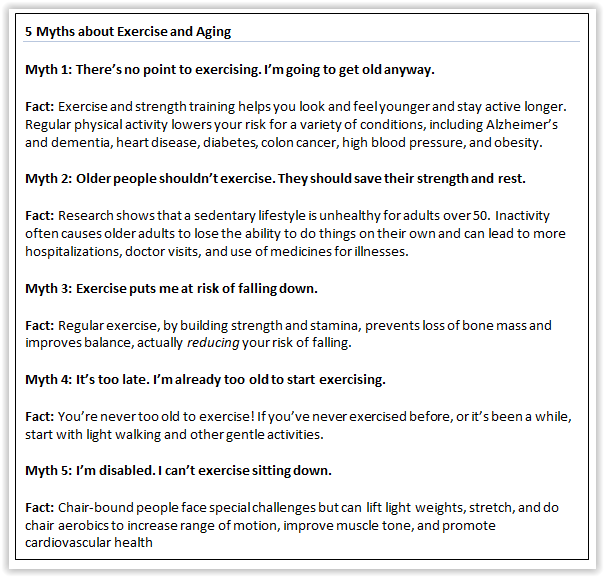 References
The Canadian Society for Exercise Physiology (CSEP), www.csep.ca/guidelines
The World Health Organization, www.who.int/topics/physical_activity
Region of Waterloo Public Health, www.chd.region.waterloo.on.ca/en/healthyLivingHealthProtection/physicalactivityolderadults.asp
Public Health Agency of Canada (PHAC), www.phac-aspc.gc.ca/hp-ps/hl-mvs/pa-ap/02paap-eng.php
Helpguide.org, www.helpguide.org/articles/exercise-fitness/exercise-and-fitness-as-you-age.htm
Last modified on Feb 06, 2015