Transmission of Lyme Disease
What is Lyme disease?
Lyme disease is a bacterial infection in humans caused by the bacterial agent Borrelia burgdorferi. Humans can get this infection from the bite of a blacklegged tick (also known as a deer tick) that carries the bacterium.  An infected tick will most likely pass the bacterium to a human when it has been attached for at least 24-36 hours.  Ticks become infected with the B. burgdorferi bacteria after feeding on birds and small animals such as mice and squirrels, which are natural carriers of these bacteria.  Not all blacklegged ticks carry Borrelia burgdorferi.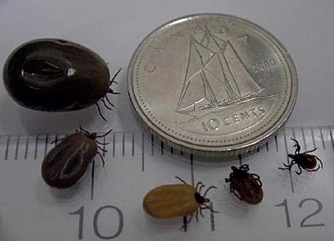 What are blacklegged ticks?
Blacklegged ticks are slow moving, non-flying parasites that are closely related to spiders and mites.  Adult blacklegged ticks are typically red and dark brown in colour and very small (1 to 5 mm in length) when unfed. Young ticks or nymphs are lighter in colour and even smaller in size.  As ticks feed, they can grow to the size of a grape.  All active stages of ticks feed on blood in order to grow and develop.
Where can you find blacklegged ticks?
Ticks can be found in wooded or marshland areas as well as places with tall grasses and bushes.  In Ontario, locations with well-established blacklegged tick populations include:
Cornwall
Kingston
Long Point peninsula including Long Point Provincial Park and the National Wildlife
Ottawa
Pinery Provincial Park
Point Pelee National Park
Prince Edward County
Parts of the Thousand Islands National Park
Rondeau Provincial Park
Rouge Valley and areas of Toronto and Durham
Turkey Point Provincial Park
Wainfleet bog region near Welland
Westport
Tick populations in Ontario are expanding into new regions of the province, including Eastern Ontario.  Ticks can attach themselves to migratory birds and travel anywhere in the province, so it is important to be "tick smart" anytime you are travelling to a potential tick habitat. People can come in contact with blacklegged ticks, or be infected with Lyme disease, almost anywhere in Ontario.
2016 Lyme Disease Risk Areas Map
For additional endemic regions in Canada, please visit the surveillance section of the Public Health Agency of Canada.
For information about the risk for contracting Lyme disease while travelling to other countries, please visit the World Health Organization (WHO).
Tick Management
To maintain ticks around your home and vacation property, please visit the Center's for Disease Control and Prevention (CDC) on preventing ticks in the yard.
Last modified on Jul 08, 2016