Giant Hogweed
What is it?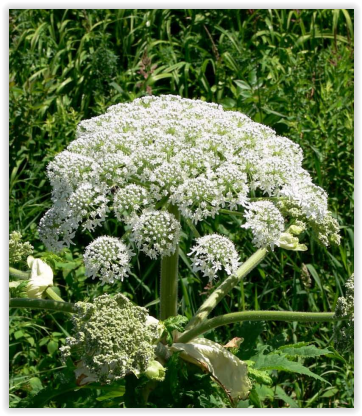 Giant Hogweed is an invasive perennial known for its enormous size. This species usually grows from 2.5 to 4 metres (8 to 14 feet) high with leaves up to 1 metre (3 feet) in breadth. It has thick, 5 to 10 centimetres (2 to 4 inches) hollow stem. Its stem and the undersides of its leaves are covered in coarse hairs.
Its large, umbrella-shaped flowers are white in colour and can be more than 30 centimetres (1 foot) in diameter. The seeds of Giant Hogweed are flattened and oval in shape. This plant produces a clear, toxic watery sap that causes a skin reaction known as photodermatitis.
Where is found?
Roadsides, stream banks, waste areas and other scattered locations.
Why is it noxious?
Its watery, clear sap contains photosensitizing compounds, which, when in contact with the skin and in combination with UV radiation, can cause dermatitis in sensitive individuals. The symptoms may range from skin inflammation to serious blisters and scars.
How do you treat exposure?
First prevent exposure by wearing gloves, protective clothing and protective eyewear when working with the plant(s). Cutaneous surfaces exposed to sap should be washed extensively with water. Further exposure of the affected skin to UV/Sunlight should be avoided. If photo dermatitis occurs, medical consultation should be sought.
If there has been direct exposure to the eye (cornea), flushing the eye with water is immediately required and the individual should seek medical evaluation and treatment on an urgent basis.
Where can you find additional information on giant hogweed?
Additional information on Hogweed you may be obtained by calling the Invading Species Hotline at 1-800-563-7711 and from the links located to the right.
*photo credit: Karen Rimmer
Last modified on Sep 12, 2017