Injury Prevention (falls)
Preventing falls (Older adults)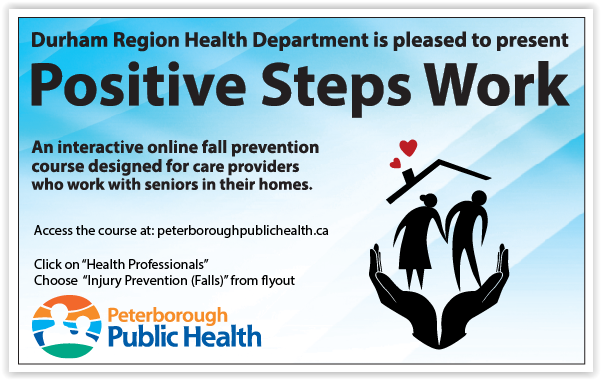 Positive Steps Work is a free online, interactive fall prevention course designed for care providers working with seniors in their homes.
This course helps learners to understand how a fall affects seniors, their family and the healthcare system. It examines the risks that can lead
to a fall, and caregiver, family and seniors' roles in preventing them. It provides careful inspection of seniors' point of view and the importance
of fall prevention.  Finally, it serves to raise awareness of community resources to help prevent falls.
Positive Steps Work is uniquely designed to work on any device, at any time and from any location with internet access. This e-course is
engineered to meet the needs of adult learners and allows you to work at your own pace; stopping the course when you need to, and returning
later to complete it when you have time.
This course can be incorporated into education, training and orientation for care providers working with seniors in their home.
Falls Prevention
Falls of older adults has been clearly identified as a priority area for public health – locally, provincially and nationally.
Falls are by far the most common cause of major injury hospitalization for Ontario seniors, responsible for more than 850 hospital admissions to specialized trauma facilities in 2008, or about one-fifth (20%) of all severe injury admissions to trauma facilities across all age groups in the province. According to new data from the Canadian Institute for Health Information (CIHI) the number of admissions to trauma facilities for severe injuries from falls in seniors increased by 20% over the five-year period from 2004.(Canadian Institute for Health Information 2010)
Evidence strongly suggests that falls result from multiple factors that can be both intrinsic to the individual, and within the environment. And as the population ages, the impact of falls continues to increase.
For adults, aged 65 and older, unintentional falls account for 84% of all hospitalizations due to injury. The direct and indirect cost of fall-related injuries in older Canadians is estimated at 2.9 billion dollars annually.
Effective fall prevention and control programs require accurate surveillance systems which can monitor the incidence, causes, treatment and outcomes of fall-related injury within an integrated system of data collection, analysis, interpretation and communication that is able to provide decision makers with accurate and timely information (PHAC, 2010).
Although there are many evaluations and methodological limitations to existing studies, there is evidence to support multi-sectoral, population-based approaches to the prevention of falls-related injury. PCCHU is working with Partners in Ageing Well (LINK) and the CELHIN(link) to develop strategies and interventions locally.
The Local Health Integration Network  (LHIN) Collaborative has recently released the "Integrated Provincial Falls Prevention Framework and Toolkit".
This document provides a framework for falls prevention at the local and provincial levels to ensure a consistent approach to preventing falls across the province.
Last modified on Oct 13, 2016