Influenza (Flu) Clinics
Where can I find a Flu Clinic?
Health Unit clinics for families with young children:
By Appointment ONLY:
For more information, please call 705-743-1000 X 349
Monday, January 22 between 3pm and 4pm
Flu Clinics:
Flu Vaccine Clinic Locator (Link takes you to a Government of Ontario Website.  Please click the link and enter your Postal Code to find a pharmacy or flu clinic nearest to you!) Please Note:  Link may

not

open with Internet Explorer.  Please use Google Chrome or Firefox.
You can also obtain a flu shot at:
participating pharmacies; or
your primary care provider's office, if they are offering it
For more information, please call 705-743-1000 X 349
To find the nearest pharmacy to you offering flu shots please check out the following flu clinic finder: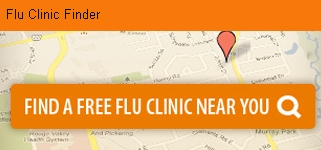 2017-2018 Peterborough Public Health Flu Clinic Consent Form
Last modified on Jan 17, 2018